Before we jump into everything that makes our electronic plan review software stand out against competitors like Bluebeam, let's explore why you need a cloud-based electronic document review system in the first place.
As the world becomes increasingly digital, more and more industries are turning to technology to streamline their processes and increase efficiency. The construction industry is no exception, and electronic plan review software has become increasingly popular in recent years.
We're not saying you have to kiss pen and paper goodbye for good, but to stay up to date with compliance and industry needs; you'll want to find electronic plan review software to simplify your workday and get better results.
You'll also gain some green brownie points by no longer incurring costs to the planet and the bottom line in printing, scanning, and archiving those endless paper plans.
Why e-PlanSoft?
Reason #1: e-PlanSoft is User-Friendly
The first thing you'll notice after requesting a demo of e-PlanREVIEW® is how user-friendly it is. We probably all have that one colleague who isn't the most tech-savvy (sorry, Brian), but we firmly believe that technology shouldn't require you to have been born with an iPad in both hands to make great use of it.
The platform is intuitive and easy to navigate for everyone on your team. It has been designed to be user-friendly for both plan-reviewers and applicants, making the plan review process more efficient and streamlined. After all, it wouldn't help if you needed to revert to laborious printing and scanning when it's time to work with your client.
Reason #2: e-PlanSoft is Highly Customizable
No jurisdiction is cookie-cutter, so why would you rely on software designed with nothing but the status quo in mind?
e-PlanREVIEW® can be tailored to meet the specific needs of each jurisdiction, ensuring that it is a perfect fit for any community. This level of customization helps to ensure that plan reviews are consistent and thorough, no matter where they are being conducted.
Some of the ways e-PlanREVIEW® is customizable are:
User Roles:

allows administrators to create and assign user roles based on each users responsibilities and required access level. This enables you to limit access to sensitive information and ensure that each user has the appropriate level of access.

Workflows:

allows users to create custom workflows that can automate specific tasks and processes. Workflows can be configured to trigger actions based on certain conditions, such as the completion of a job or the submission of a document.
Integration:

e-PlanREVIEW® can be integrated with other software platforms, such as project management tools and document management systems. This enables organizations to streamline their workflows and improve collaboration between different teams.



Reason #3: e-PlanSoft is Secure
The software uses state-of-the-art security measures to protect sensitive information, ensuring it is always safe and secure. This level of security is essential for plan reviewers who handle sensitive data daily.
We have achieved SOC2 certification for reporting. SOC, which stands for System and Organizational Controls, is a framework developed for providing regular, independent attestation of the controls a company has implemented to mitigate information-related risk. This means we adhere to the highest security standards possible.
Reason #4: e-PlanSoft is Efficient
No matter how long you've been a plan reviewer, you know time is of the essence.
e-PlanREVIEW® streamlines the plan review process, reducing the time and effort required to complete a review. This increased efficiency helps plan reviewers handle more projects, ensuring that reviews are completed promptly.
Reason #5: e-PlanSoft is Collaborative
If you've also been considering a Bluebeam Revu download, you've probably been knee-deep in comparing and contrasting the similarities and differences between Bluebeam and ePlanSoft.
If you're looking for a PDF markup tool designed for construction plan sets, you have a potential solution in Bluebeam Revu.
However, e-PlanSoft comes out on top on top for planners and reviewers due to its highly collaborative nature. When we created e-PlanREVIEW®, we set out to be the most collaborative platform. It has been designed to streamline the plan review process for construction projects, permitting, and code compliance. e-PlanREVIEW® brings together multiple stakeholders, such as architects, engineers, contractors, and government agencies, to collaborate in real-time through a cloud-based platform.
Here are some key features that make it the collaborative tool of plan reviewer dreams:
Real-time Collaboration

: e-PlanREVIEW® allows multiple users to simultaneously access, review, and mark up plans in real time. This helps to reduce the time spent waiting for others to complete their review and promotes efficient communication among team members.



Cloud-Based Platform:

The software is hosted on the cloud, which means that users can access and work on the plans from anywhere, anytime, using an internet connection. This eliminates the need for physical copies of plans and makes it easier for team members to collaborate.

Version Control:

e-PlanREVIEW® has built-in version control, ensuring that everyone is working on the most current version of the plan. This prevents confusion and errors caused by outdated documents.
Centralized Communication:

The platform features a centralized communication hub where users can share comments, notes, and markup on the same plan. This eliminates the need for multiple email threads or phone calls, making it easier for all stakeholders to stay up-to-date on project changes and decisions.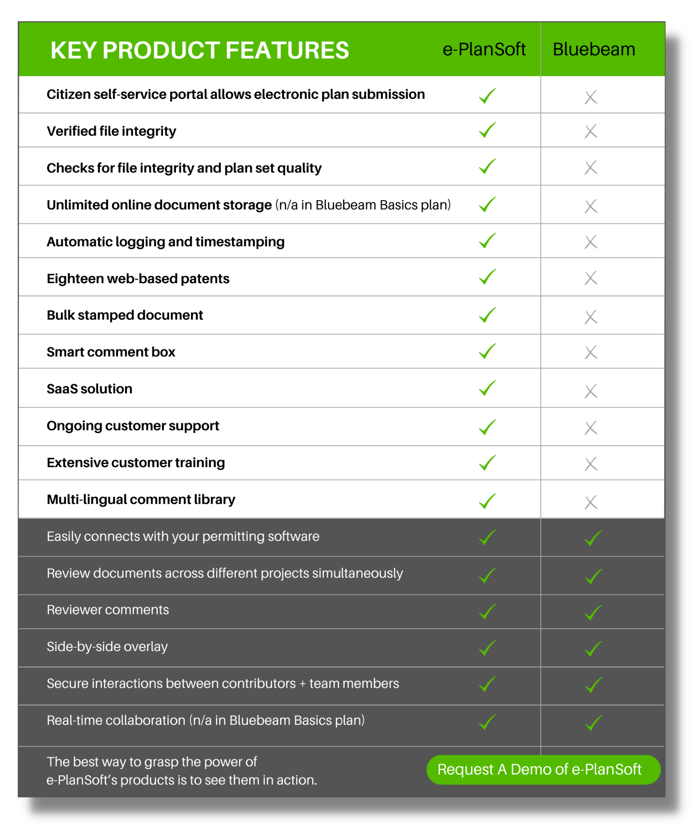 Conclusion
In conclusion, e-PlanSoft offers a comprehensive, user-friendly solution that can help streamline the plan review process for agencies and their reviewers.
With features such as ease of use, accessibility, collaboration, customizability, and integration, it's no wonder that e-PlanSoft has become the preferred choice for many plan reviewers. By leveraging e-PlanSoft, agencies can improve their plan review process, reduce errors and delays, and save time and money.