Public Access
beyond the time

e-PlanSoft's goPost™ Public Portal is a fully web-based application that is tightly integrated
into e-PlanREVIEW® and can support the following 'user roles':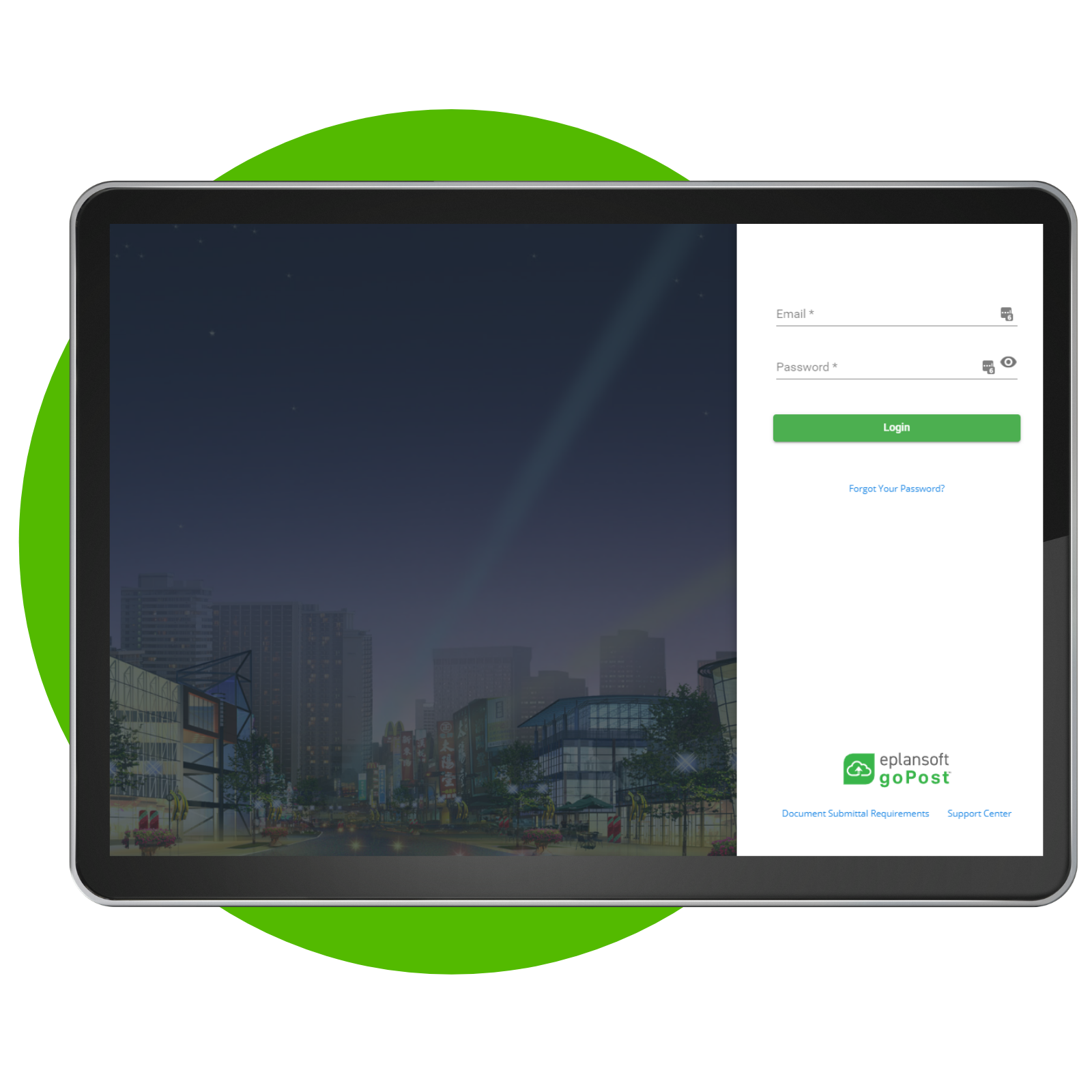 You asked for the perfect portal
so we listened to you!
eplansoft's goPost™ Public Portal will allow Applicants to apply for permits, upload and submit plans for review, manage document versioning, access reviewer comment reports, and download deliverable packages (either reviewed plans that require corrections or approved plan sets). There is no cost to the applicants to create a goPost login account. Customers have full access to goPost online 24X7, including the ability to submit plans.
The user interface of goPost™ will provide links for Applicants to download submittal guidelines in PDF format. Any files uploaded to goPost™ will pass through our PDF Scout™ Inspector, which will reject incoming documents that do not meet best practices.
Applicants may create and manage many (unlimited) permit application projects, upload 2nd, 3rd, etc. submittals and receive automated emails when their project's workflow status changes in EPR. Each user account requires a valid email address and password.
Intake staff at Municipals will utilize goPost™ to evaluate incoming submittals made by Applicants, including whether incoming documents meet the municipals' submission criteria, and either accept or communicate deficiencies back to the applicant. When ready, Intake Staff will 'accept' goPost™ projects and push files over to EPR for processing. This online upload through the goPost portal reduces the plan review processing times by eliminating the need for physical trips to drop off and pick up plans as well as the storage associated with hard copies.
Submit your plans from anywhere
Steps for the goPost 'Applicants'
Create an account
Create a free goPost user account
Complete project form
Once in the portal, fill out the goPost 'Project Form' with your project details.
Upload Plan Sets
Upload your plan sets in PDF format as well as supporting attachments (any file format). Our PDF Scout™ Inspector checks incoming plan sets to identify non-compliant PDFs
Submit Plans
Seamlessly submit the project to the agency.
Steps for the goPost 'Intake Staff'
Oversee Projects
Oversee projects submitted by 'Applicants'
Perform Project Check
Perform intake completeness check to ensure the necessary project information and documents are complete. Place projects on hold until required information/documents have been provided by the Applicant
Manage Workflow
Manage each project's workflow (accepted, on hold, denied, pending) all from your browser
Submit and approve Plans
Seamlessly submit goPost projects and documents that come into e-PlanREVIEW® once ready for review
Request a Demo
Connect with one of our professionals today to learn more.